By Brandon Hall
(Email him at WestMiPolitics@Gmail.com
I have been immensely disturbed at the lack of media attention on two big issues in Michigan's State Senate over the last few months.
The first story on the self imposed "blacklist" is the #MeekhofSenateBuilding, a controversial project the legislature never even voted on. Instead, Senators Meekhof and Richardville utilized a Lansing slush fund knows as the "Michigan Strategic Fund" to pay for the project in the middle of "lame duck."
The property was never assessed, and the state is overpaying by millions, triple the value of the property,. All this the benefits a big GOP donor-of course. As State Rep. Todd Courser prepares to ask for an Attorney General Opinion/investigation, why has this story been largely ignored? Especially after the revelation a couple weeks ago from WXYZ that no assessment was done and the state is paying triple the real value of the property, yet barely a word has been said about it...
The second is a change to senate rules that eliminated the public and media's access to important Senate records.
In a voice vote unaccountable to Constituents and pushed for by Senate Majority Leader Arlan Meekhof, the public and media no longer have access to vital records of the Senators they elect after Senate rules were changed.
Local governments are subject to FOIA, as are most areas of federal government. Years ago though, the Michigan Legislature exempted themselves from FOIA requirements. The Senate rules allowed a similar process to FOIA, but Meekhof has JUST purged those rules, like Cindy Gamrat at a GOP Caucus meeting: they're GONE.
We have no shortage of great media outlets in Michigan-WAY too many to name. I'll put our press corps up against any state any day. Yet unbelievably, the only outlets to cover these stories in a significant way (aside from WMP) have been WXYZ, Detroit Free Press, and MIRS. This is unacceptable-the people have a right to know what is going on in Lansing and Michigan media is falling short-a self imposed story "blacklist" that keeps Michiganders in the dark about stories that, when they hear about them, they are outraged.
I know the press can't cover everything, but here, with these two stories, they have dropped the ball in a major way. Don't worry though-we've got plenty of cute cats and dogs on deck! And Bieber said some dumb things and egged somebody's house, guys!. And her's another story about Virgil Smith! (Important but not costing you $130 million or preventing you from Senate records...)
Maybe if we called it the "Dave Agema Senate Building," or Agema rewrote decades of Lansing tradition-somebody would be outraged...

The fact every Michigander pays $13 for the #MeekhofSenateBuilding, a project that could fund 5 million potholes, or give $86 to every school kid? The fact that Senate rules have been changed to stop media and public access from basic Senate documents? Move along, nothing to see here. Keep calm and trust Lansing.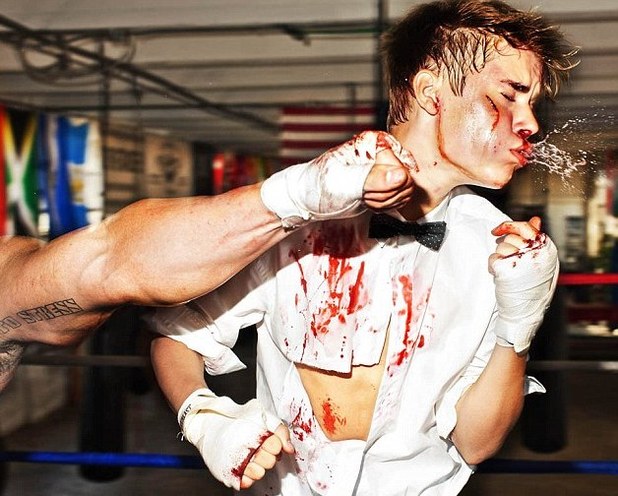 Divide, Deceive, Distract: Government employs a number of mechanisms to keep the public in the dark (Photo of Justin Bieber by Complex Magazine)
_______________________________________________________
Brandon Hall is a lifelong political nerd from Grand Haven, and is the Managing Editor of West Michigan Politics.
>>>Email him at WestMiPolitics@Gmail.com
Photo By Darlene Dowling Thompson