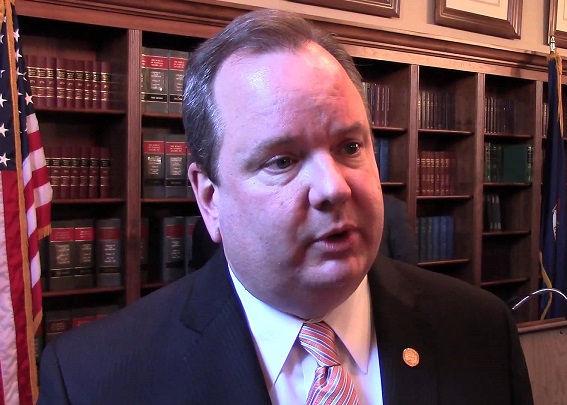 (Email him at WestMiPolitics@Gmail.com
Plymouth Twp. Police Department documents show an intense argument over loud music and texting caused a prominent legislator to lose his cool with his daughter after she "talked back" to him before school one morning-that's where things get murky.
Weeks after winning the Republican primary for State Representative in the 20th District, Rep. Kurt Heise was the subject of a brief Child Protective Services investigation after a counselor at his daughter's middle school alerted authorities that she may be in danger.
Sources tell WMP that his daughter told the counselor that Heise, a Plymouth area lawyer, tried to choke her during a brief but heated argument before school in October 2010.
Heise is well known as the leading voice for the expulsion of Representatives Cindy Gamrat and Todd Courser. He was on the select committee investigating the lawmakers and voted to expel them after a passionate speech on the House floor.
WMP filed a FOIA request Monday morning with Plymouth Township to get a copy of the police report for the incident, and a partial one was provided later that day. Then today, an email was received containing the report without redaction after Plymouth officials unexpectedly voted to release it during a meeting last night.
"At a Regular Meeting on Tuesday, September 22, 2015, the Plymouth Township Board of Trustees voted to reverse the partial denial of a document that you requested under the Freedom of Information Act," said Plymouth Twp. Deputy Clerk Michelle Lozier in an email to WMP.
WMP had not yet asked for the uncensored report, the Plymouth Twp. Board of Trustees vote was held without any known request.
According to the report filed by Plymouth Twp. Police Officer Jason Hayes, Rep. Heise was upset with one of his daughters listening to music and texting instead of getting ready for school and told her to stop. The daughter subsequently complied but was argumentative and talking back. This caused Heise to get heated with her and he "poked her in the shoulder with two fingers" while yelling aggressively, "sternly."
The report says the daughter merely wanted to vent to the counselor and thought the whole thing was overblown. However, sources tell WMP that the daughter originally said Heise aggressively choked her during the dispute and that she was quite scared. This caused the counselor to disregard's Heise's status as incoming State Rep. and go to authorities with concerns.
No charges were filed after police and CPS investigators said the Heise house seemed to be "safe and normal."
He has
recently
said voters shouldn't even get a chance to decide Gamrat's fate and she should not be allowed on the ballot.
From MLive:
"Rep. Kurt Heise, an attorney who sat on the special committee that recommended expulsion for Gamrat and fellow Rep. Todd Courser, said Tuesday that
the SOS determination
is not binding and should be tested in court.
"I don't have standing to do anything, but if I were a candidate in that race right now, I would be on the road to Lansing, I would hire an election law expert, and I would file a lawsuit right now" in Circuit Court or the Court of Claims, he said...
Heise believes that the Michigan House, by expelling Gamrat, voted to exclude her for the duration of her two-year term, which runs through 2016. The Michigan Constitution holds that the House is the sole arbiter of a lawmaker's qualification to remain in office.
"She does not have the legal right to put her name back on the ballot," Heise, R-Plymouth Township, argued. "That undermines the legislative intent, it undermines the constitutional intent behind all of this and it's illegal. I think one of those candidates needs to take the initiative and do it.
"
>>>
According
to his bio, Heise is the Chairman of the House Criminal Justice Committee. He is married to Wayne County Circuit Court Judge Catherine Heise, recently appointed by Gov. Snyder to fill a vacancy.
"Kurt Heise is the State Representative for the 20th House District, comprising the City of Northville, Northville Township, the City of Plymouth, Plymouth Township, and eastern Canton.
Born in 1966 in Dearborn, Heise and his wife, Wayne County Circuit Court Judge Catherine Heise, reside in Plymouth Township with their children Kate and Claire. Both daughters are high school students in the Plymouth-Canton Public Schools.
Active in his community, Heise is a Trustee on the Plymouth-Canton Schools' Educational Excellence Foundation, and is a member of the Plymouth Rotary Club, Plymouth and Northville Chambers of Commerce, and other civic organizations.
Now in his third term, Heise again serves as Chairman of the House Criminal Justice Committee. He also serves on the House Judiciary, Elections & Ethics, and Local Government committees.
Heise graduated from the Dearborn Public Schools in 1984 and the University of Michigan with a bachelor's degree in Political Science in 1988. He then earned a Juris Doctorate and a Masters of Law in Labor Law from Wayne State University Law School in 1991 and 1993. He was admitted to the Michigan Bar in 1991 and is licensed to practice in the Federal District Court in Detroit and the Sixth Circuit Court of Appeals."