Ron Weiser
By Brandon Hall
(Email him at WestMiPolitics@Gmail.com)
Norm Hughes, candidate for Michigan Republican Party Chair, tells WMP that reports he invoked anti-Jewish sentiment in an attack against Ron Weiser are "not true as stated."
WMP has received credible information that Hughes implied via email that having Weiser, who is Jewish, headline the Christian Coalition's dinner during the August 2014 state convention in Novi, was inappropriate because of Weiser's religion and that the event was a "bust" because of Weiser.
"
Trash talk, Brandon. Not true as you stated it. I like Ron and appreciate all he has done, but it is true I supported Dr. Steele and former Regent Dan Horning. I felt they had the best chance to win and carry the conservative message."
Hughes faces Wayne St. instructor and nurse Kim Shmina, as well as RNC Committeewoman Ronna Romney-McDaniel next weekend in Lansing to determine who will replace Bobby Schostak as the next MI GOP party Chair.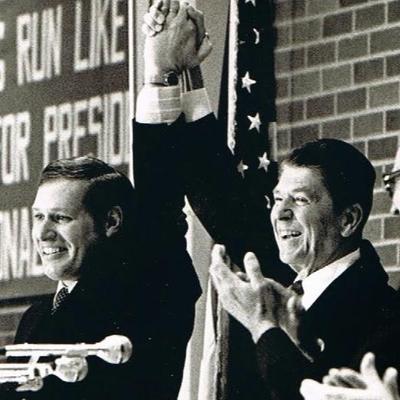 Hughes, left, with President Reagan
_________________________________________________________________________

Brandon Hall is a lifelong political nerd from Grand Haven, and is the Managing Editor of West Michigan Politics.
>>>Email him at WestMiPolitics@Gmail.com
Facebook
Photo By Darlene Dowling Thompson