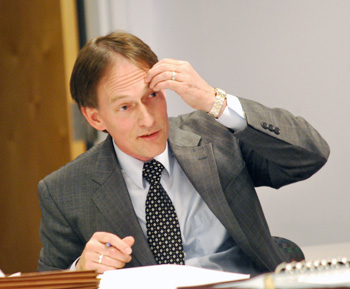 Judge Boonstra
By Brandon Hall
(Email WestMIPolitics@Gmail.com)
Court of Claims Judge Mark Boonstra says a lawsuit against former Flint Mayor Dwayne Walling, former Flint Emergency Manager Darnell Earley, and others involved in the Flint Water Crisis will proceed to a jury trial in Genesee County.
Walling and co. are appealing the ruling...
According to Gongwer:
"The city of Flint, former Flint Emergency Manager Darnell Earley, former Mayor Dayne Walling and two top former Flint water officials are appealing a Michigan Court of Claims ruling sending seven lawsuits against them for their conduct in the Flint water crisis back to the Genesee Circuit Court.
Court of Claims
Judge Mark Boonstra
returned the cases to the Genesee court after ruling the Court of Claims lacked jurisdiction because the case involved city officials, but mainly because the plaintiffs had requested the right to a jury trial, which the Court of Claims cannot have (See
Gongwer Michigan Report, August 26, 2016
).
He said an emergency manager, as a state-appointed officer, would appropriately be sued in the Court of Claims, but the right to trial by jury means the case must return to the Genesee circuit. The appeal was filed Friday."
See Also:
____
______________________________________________
________________
Brandon Hall is a lifelong political nerd from Grand Haven, and is the Managing Editor of West Michigan Politics.

>>>Email him at WestMiPolitics@Gmail.com

Facebook
Twitter
Photo By Darlene Dowling Thompson