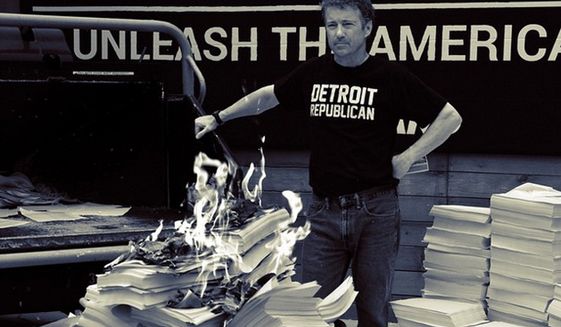 Rand Paul while in Michigan burns the tax code in an Instagram post from today
By Brandon Hall
(Email him at WestMiPolitics@Gmail.com)
Rand Paul began a two day tour of Michigan today, and it kicked off with a bang: or a more aptly, a raging fire. Paul, wearing a "Detroit Republican" shirt, filmed an ad in Michigan where he literally sets the federal tax code on fire after piling it in to a wheelbarrow.
From the Washington Times:
"Sen. Rand Paul
hates the tax code so much that he literally burns it.
"Join me in Michigan where I'll be talking about destroying the tax code: rand paul.com/events and watch for my new ads where it literally happens," the Kentucky Republican posted to his Instagram account on Friday.
Mr. Paul's picture featured him in a "Detroit Republican" T-shirt while a wheelbarrow filled with paper goes up in flames.
"
Paul's Michigan tour continues tomorrow, with stops across the state...
____________________________________________________________
Brandon Hall is a lifelong political nerd from Grand Haven, and is the Managing Editor of West Michigan Politics
Email him at WestMiPolitics@Gmail.com
Photo By Darlene Dowling Thompson