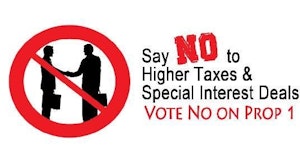 By Brandon Hall
(Email him at WestMiPolitics@Gmail.com)
With the vote on the controversial road tax package just over a month away, Paul Mitchell's "Say No To Higher Taxes and Special Interest Deals" continues to fight against what will be known on the ballot as Proposal 1. The proposal will cost Michiganders $2 billion annually, with 40% going to projects other than roads.
Mitchell is a regular on local news stations and radio, the group released their second TV ad recently, and a rally in Lansing on "Tax Day" has been announced.
He also
acquired AFP's Scott Hagerstrom, and former Ottawa County GOP Executive Director Faith Steketee.
The April 15 rally will include a training session before hand, allowing interested
participants to learn how to effectively advocate against Prop 1.
Those interested in attending are encouraged to register, though that is not required.
The event website says that:
"On May 5th Michigan voters have been asked by legislators to vote on what will be the largest tax increase in nearly 50 years, if passed. This "Transportation" tax will raise $2 billion and once fully implemented in 2018 nearly 40% ($700 million plus) won't go to fix a single pothole/road.
Noon - 2 pm - Citizen Lobbyist Training and visit your legislator
2 pm - 3 pm - Call to Action/Road Rally

Come help us send a message to Lansing that we will not pay ransom to Lansing Special Interests to get our roads fixed. Michigan families can't afford a $800 per year, every year tax increase so that 40% can be siphoned off to non-road projects."

Efforts by other groups are also extremely helpful. Groups started by former State Rep. Tom McMillin and political consultant John Yob, among others, are a valuable resource for Mitchell's campaign, and for all who oppose Prop 1.
>>>Read the WMP interview with Paul Mitchell HERE:
_________________________________________
____________________________
Brandon Hall is a lifelong political nerd from Grand Haven, and is the Managing Editor of West Michigan Politics.
Email him at WestMiPolitics@Gmail.com
Photo By Darlene Dowling Thompson